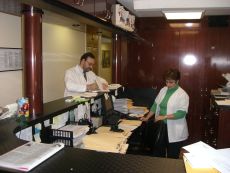 Dr. Kolesnik offers consultation and treatment services for neurological conditions. He has been in practice for over 14 years providing care for patients with acute and chronic neurological conditions.
Dr. Kolesnik is a Board Certified in Neurology and Sleep Medicine and has special expertise in treating patients with seizure and sleep disorders.
Dr. Kolesnik is affiliated with New York Hospital Medical Center of Queens, affiliate of Weill Medical College of Cornell University and Winthrop University Hospital in Mineola.
In addition our office provides a full range of physical and occupational therapy and rehabilitation services.
Our team is dedicated to create an individual treatment plan. We are able to offer services not found anywhere else in Queens: hydrotherapy, underwater massages and nontraditional treatments such as therapeutic mud therapy. Mud is exclusively brought from one of the famous resort/ spa facility in Western Europe.
If you need to learn more about medical conditions treated by Dr. Kolesnik you may browse medical conditions listed on your left hand side.
Feel free to contact us if you have any questions. You may do so by either calling us or via e-mail. You can also make an appointment online using provided link in the left upper corner of the page.